We are seeking dynamic researchers/educators for three different full-time faculty positions at the level of Assistant/Associate Professor at the Department of Chemistry, Bilkent University, Ankara, Turkey in the fields of:
i) computational chemistry, ii) materials chemistry, iii) experimental physical/analytical/inorganic/organic chemistry.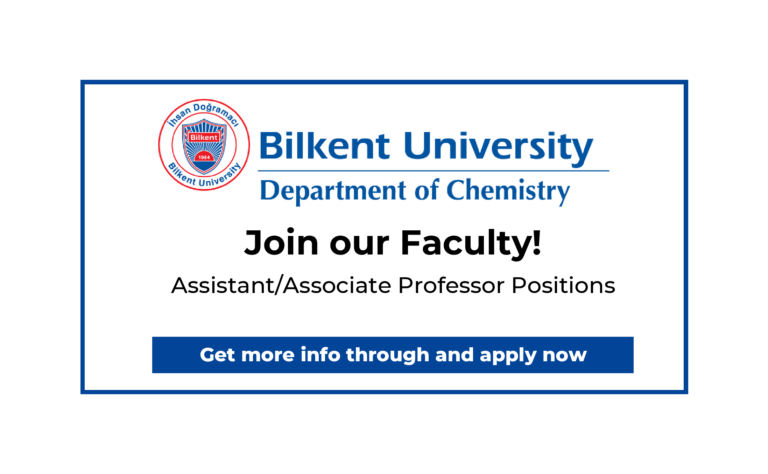 Bilkent University provides an active research and teaching environment with ample access to research infrastructure, a dynamic student body, and vibrant campus. The benefits package includes furnished on-campus housing, discounted comprehensive private family health insurance, special discount for the family members of the applicants attending the private preschool/kindergarten/elementary/middle schools operated by the Bilkent University system, free on-campus parking, lunch card, and salary commensurate with experience.
The ideal candidate is expected to have a Ph.D. degree in the requested fields of chemistry mentioned above, post-doctoral experience, the ability to initiate an internationally competitive independent research program by providing dynamic instruction and leadership to train high-caliber chemists of the future, and the academic background to teach undergraduate/graduate courses in chemistry. Further, the candidate is expected to generate collaborations both within and outside the department to widen his/her research horizons. Bilkent University Chemistry Department will also cover tuitions/fees, monthly stipends and health insurances of all graduate (M.Sc., Ph.D.) student researchers registered to the Chemistry Department who will be working in the applicant's research group.
Interested applicants can compile an application dossier (total file size < 12 MB) including a cover letter, teaching statement, research statement, CV, and two reference letters and email it to Professor Emrah Özensoy (ozensoy@fen.bilkent.edu.tr), Chair of the Department of Chemistry, Bilkent University.