Fall '22 Department Seminars with Dr. Zeynep Çulfaz Emecen
Title: Expanding the Scope of Membrane Separations: From separations in organic solvents to fine-tuning membrane properties
Speaker: Dr. Zeynep Çulfaz Emecen
Department of Chemical Engineering, Middle East Technical University, Ankara, Türkiye
Date: Dec 13th, 2022, Tuesday
Time: 12:30
Place: Departmental Seminar Room (SB-Z14)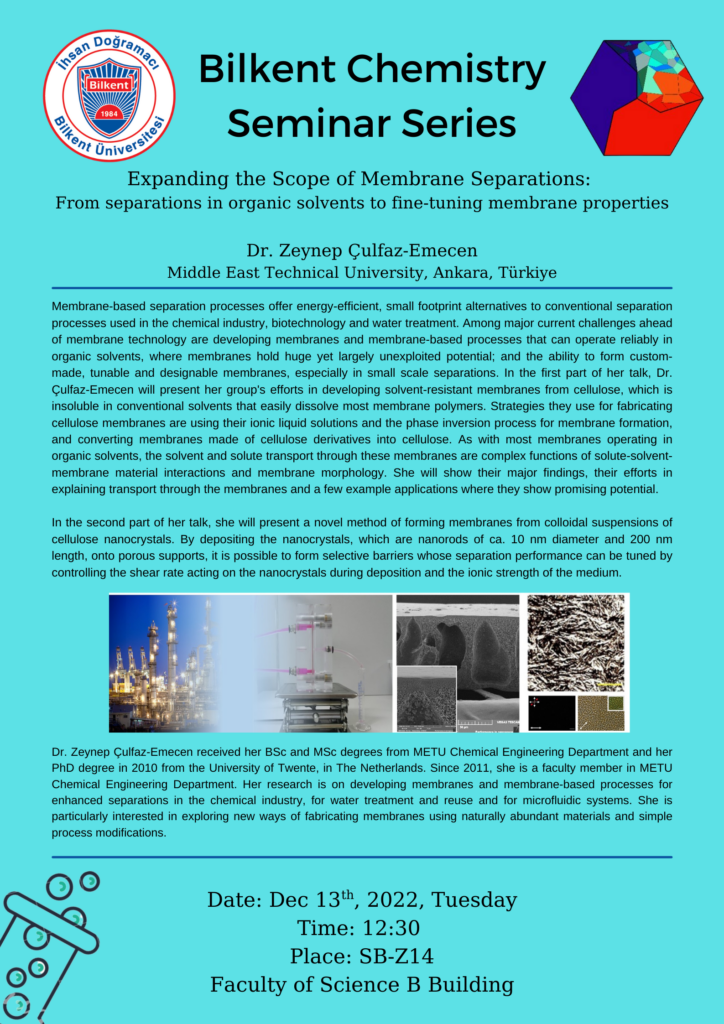 Abstract:
Membrane-based separation processes offer energy-efficient, small footprint alternatives to conventional separation processes used in the chemical industry, biotechnology and water treatment. Among major current challenges ahead of membrane technology are developing membranes and membrane-based processes that can operate reliably in organic solvents, where membranes hold huge yet largely unexploited potential; and the ability to form custom-made, tunable and designable membranes, especially in small scale separations.
In the first part of my talk, I will present our efforts in developing solvent-resistant membranes from cellulose, which is insoluble in conventional solvents that easily dissolve most membrane polymers. Strategies we use for fabricating cellulose membranes are using their ionic liquid solutions and the phase inversion process for membrane formation, and converting membranes made of cellulose derivatives into cellulose. As with most membranes operating in organic solvents, the solvent and solute transport through these membranes are complex functions of solute-solvent-membrane material interactions and membrane morphology. I will show our major findings, our efforts in explaining transport through the membranes and a few example applications where they show promising potential.
In the second part of my talk, I will present a novel method of forming membranes from colloidal suspensions of cellulose nanocrystals. By depositing the nanocrystals, which are nanorods of ca. 10 nm diameter and 200 nm length, onto porous supports, we can form selective barriers whose separation performance can be tuned by controlling the shear rate acting on the nanocrystals during deposition and the ionic strength of the medium.
Short Biography of the Speaker:
Dr. Zeynep Çulfaz-Emecen received her BSc and MSc degrees from METU Chemical Engineering Department and her PhD degree in 2010 from the University of Twente, in The Netherlands. Since 2011, she is a faculty member in METU Chemical Engineering Department. Her research is on developing membranes and membrane-based processes for enhanced separations in the chemical industry, for water treatment and reuse and for microfluidic systems. She is particularly interested in exploring new ways of fabricating membranes using naturally abundant materials and simple process modifications.